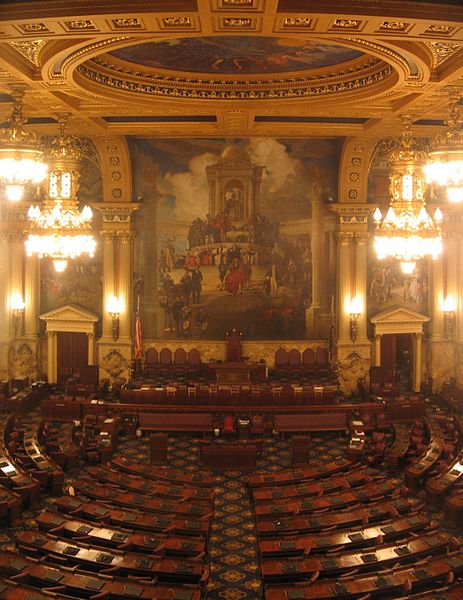 Politics
PA-112, PA-113, & PA-114: And We Have Races!
The routine of breakfast consumption in NEPA involves more than mimosas and toast.  We get our truest, necessary sustenance from politics.  A slice of gossip here, buttered with a little bit of hearsay there, and a healthy balanced meal of the latest corruption arrests coupled with  rampant speculation about upcoming elections leaves us ready for work to talk about it all over again at lunch.
This election cycle leaves us pipsqueak School Board, Council, and Mayor types out in the lurch.  What have we to do but stand on the sidelines of the Arena and watch the Gladiators duel to the death for our amusement?
The "We Who Are About To Die" salutes are happening faster than I can contend with.  State Senator John Blake is getting a pass, so far, but the State Rep. races are so very juicy this year.
PA-112
The 112th has had some of the most classic match-ups in the past few years.  The ever-enthusiastic Kevin Haggerty, the current incumbent who once went after an opponent at a Little League game (he's very passionate), is the favorite right out of the gate.  Aside from the nearly endless store of energy required to run, Haggerty's announced opponents will eat each other alive before they even realize he's in the ring.
The other incumbent, Frank Farina, saw his district pulled right out from under him.  The 115th was moved outside Lackawanna County and the Midvalley merged with a chunk of the 112th district, particularly Dunmore, the Hill, and the lower half of South Side.
The Midvalley sports a loyalist crowd of voters.  So loyal, that they'll split their votes between Farina, Joe Munley (who has a wonderful last name for politics), and former Valley View School Director Curt Camoni.  Two Italians would be enough to cause some trouble, but throw in a powerhouse family and Kevin may as well stay home.  The Midvalley will split its vote and, so long as no challengers from South Side or Dunmore jump in, Kevin can jump in that victory chariot and make the rounds.
PA-113
Marty Flynn's race was looking to be a cage match fought out on Main Avenue West Side.  Pat O'Malley planned to jump in.  Imagine the years of resentment and fracturing that would go on.  Not to mention the torrent of blue blood all over the place, since we West Siders bleed blue.  In case you didn't know.  Well, you don't have to imagine it, because O'Malley backed out.  He'll be busy fighting the Study Commission in a whole other cage match.  Or maybe not.  Corey O'Brien has been the vocal critic on that one.
Marty's going to see Lee Morgan in the Democratic Primary and Marcel Lisi in the General Election.  Neither will have the dollars to pull it off.  And Marty was literally a fighter.  Check out some of his bouts on YouTube, the man can throw a punch.  He's also everywhere.  Check all of your Facebook photos, I bet he photobombed you without even knowing it.  Each event, be it charitable or political, that happens in Scranton gets an appearance from Marty.  It's good politics and it's just being a good human.  It's nice to support causes that are good for the community.  God knows our State Government isn't helping.
Lee Morgan is from South Side and was moved from the 112th to the 113th with redistricting (as I understand).  He's active in the Scranton Taxpayer's Association and often appears at Council meetings in the vein of Ray Lyman, but with less of an accent.  He runs for office pretty often, like I do, and hasn't gone far, like I haven't.  With West Side being such a huge part of this district, I don't see how Marty loses.  I look forward to the first debate!  The only way to score points when you're down in politics is to go negative.  Marty has been good-humored about the tripping and falling incident and has handled it well, but expect it to come up anyway.
But it doesn't end there.  Marcel Lisi, who ran as a Republican for Mayor last year, will be challenging Marty as a Republican.  I worked the Keyser Valley poll and that's where he camped out.  If you like people who yell at voters walking into the polls, if you like scrolls with ribbons, and those awesome 90s wallet chains, Marcel is the man for you.  Needless to say, anybody who worked the Keyser poll that day has a story.  I'll let them tell you specifics because I'm trying to be a better person.
Not being a people person shouldn't preclude anybody from holding office.  But it does.  And people like people that they can like.  If that makes sense.
PA-114
Rumors abounded for some time that the 114th would see a race and, courtesy of the Illustrious Gort, it has indeed come to pass. Sid Michaels Kavulich has a challenger in the form of Melanie Madiera.  Melanie's husband is radio personality Dave Madiera, on whose show I've been a guest.
Madiera will be running as a Republican, which isn't a surprise for anybody who listens to her husband's show.  As such, she has little chance of succeeding because the district is swarmed with Democrats.  This may not be lost on her though and she marches into this campaign knowing it's a losing battle.  Would calling her Leonidas and Sid Xerxes work here?  Maybe.  I'll leave it to you.  In the Times Leader, she notes: "I strongly believe in the importance of an incumbent having a challenger every election."  I concur.  Debates about policy are better for the electorate, even if the election is a foregone conclusion.  There isn't much on her website yet in the way of a platform, so I'm not sure what policies she'll be talking about and what way she'll be talking about them.  However, based on her website, which quotes from Brietbart, we'll see a hyper-conservative campaign that will throw a little spice onto what would've been a rather bland race.
So, gather around.  It'll be panem et circenses.  Minus the panem.