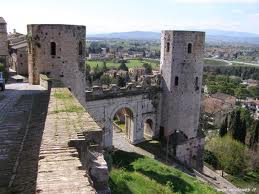 Politics
What's the Word? Edition #2: Post-Holiday Politcs, from Lackawanna to Harrisburg
A return from my honeymoon means a return to the world of blogging.  I'll have a post with some reflections on that magical time in relatively short order.  To hold you off, the feature image is of Spello, the town I spent most of my time in.  Bella!
My absence from America over the holidays means I missed a lot of goings-on, and not just familial activities.  Though open politicking tends to take a break, the groundwork gets laid for the upcoming election.  So there is a lot to talk about.
We'll start local and graduate to the state.
PA-113
First off, Pat O'Malley, it seems, will not be running against Marty Flynn in PA-113.  It would've been a bloodbath in West Side, as I mentioned in my War for West Side post.  It's a good move for Pat, I think.  It would've been a tough road — switching parties again to take on Marty while his job as a Commissioner is threatened by the Government Study Commission's recommendations would look like naked politics.  I do think people tend to forgive political maneuvering in politics, but Marty would've seized on it, most likely, and made it an issue.  Now, Pat can focus on fighting the ballot measure that is focused on eliminating his current job.  Marty, it seems, is in the clear.  I haven't heard any names other than Tim Ferguson, who lives in the St. Ann's section of West Side.  There were rumors of a return by Kevin Murphy or a run by Murphy's former Chief-of-Staff, Tommy Tell, but they were just that: rumors.  Things may change, but they have to change fast.  There are only a few weeks before petitions can start circulating.
Courtright's Inaugural Ball

I had the pleasure of going to Bill Courtright's Inaugural Ball.  I've never been to a "Ball" before.  Formal events, nice dinners, swanky parties — sure.  But a Ball?  No.  This one didn't disappoint!  The atmosphere was totally festive and even jubilant.  It makes sense.  Despite the general malaise that people feel about Scranton and its future, people were hopeful.  I certainly am.
Mayor Courtright (I love writing that) gave a speech thanking, particularly, his family and his close advisers and campaign confidantes and then talked about moving the city forward.  Most people were there for the party, so it was good that it was short, sweet, and to the point.
I didn't get a chance to talk to everybody I wanted to check in with, but I was happy to congratulate Pat DeSarno on his status as Acting Fire Chief.  I was happy to tell the Mayor that I was happy to offer input on city issues (I tend to e-mail him research and articles on municipal finance and revenue ideas — I'm a geek).  My wife was too inundated with schoolwork, so I brought Tony Frable as my date.  He owns Morganz over in Green Ridge and in addition to being my campaign committee's treasurer, he just signed on as treasurer for Marty Flynn's re-election campaign.
A good time was had by all!
The Race for Governor
Governor Tom Corbett's approval ratings are still, of course, in the toilet.  He's resorted to showing off endorsements from Canadian farmers.  Oops!  Using stock photos of non-US residents is not a good idea.  It looks lazy.  The race is really being fought in the Democratic Primary.  The most liberal candidate in the race is John Hanger, who used to be the Secretary of the DEP under Governor Ed Rendell.  But he has next to no money and is roughly trolling the bottom of the polls.  I like him.  I like his policies.  But I agree with Jon Geeting over at Keystone Politics.  He should drop out, endorse somebody, and effectively force the other candidates to stake positions on issues important to left-leaning Democratic voters.  Hanger, for example, is very anti-charter school (which is a wonderful thing) and is pro-marijuana legalization.  Nobody else is willing to wade into the latter.  Democratic candidates should.  Legalized marijuana is making big bucks for Colorado.  We jumped on the gambling bandwagon, why not that?
The powerhouses in fundraising are Alyson Schwartz, Tom Wolfe, and Rob McCord.  Schwartz is way ahead of the pack on that front.  McCord has Democratic establishment support.  They are the frontrunners.  But in terms of the combination of viability and politics, I'm a Katie McGinty fan at this point.  Schwartz is a one of those New Democrats who tend to be really pro-corporate, pro-bank, pro-insurance industry.  That doesn't sit well with me.  Wolfe is extraordinarily wealthy and a self-financer.  His positions, along with McCord's, a slightly boiler-plate.  McGinty runs to the left of that crowd with positions on education, college affordability and access, and the environment that a lot of Pennsylvanians can get behind.  Despite what appears to be a rightward tilt in the state, there is actually a huge pro-environment wing of the Republican Party.  The pro-fracking corporatists are up against the hunters and those who prize Pennsylvania's natural beauty. And those who don't like being able to set their tapwater on fire.  My point is that I think she would be electable in the General, moreso than some of the others.  The success of Kathleen Kane, our first Democrat and first elected female Attorney General, also lends credence to the idea that people want more women in politics.  (I'm one of those people.)
I think this only helps McGinty.
I'm not 100% sold on anybody, yet.  More position papers are coming.  I'm sure some dirt will be coming, too. I'm sure you'll see Hanger drop out, as he should.  The game is still in its early stages.